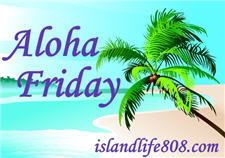 It's Aloha Friday! I found this on another blog, Two of a kind, working on a full house .
So, since its FRIDAY, it is time to relax!
Answer this simple question, then go and post one of your own....
My question is:
What is something you wished you had known or been told before you became a mom?
My answer is:
WOW! Way to many things to mention, but I can tell you one..
BUY CLOTHES of ALL SIZES! I had a big baby and we had alot of newborn clothes, to big to fit in those! Luckily, other friends gave me 3-6 mo, and 6-9 mo clothes, so we were good to go!
I am going to blog about this subject in the next few days! Would love to hear some of your thoughts!
Have a great day!!!!!!!!!!!!