Crazy Days of Summer Photo Challenge - Week Seven - Critters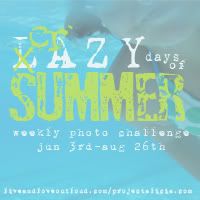 I was a bit worried about what I would take pictures of for the Photo Challenge of Critters...
When we went to visit my parents, my mom wanted to take Broxton and I to see a bunch of baby frogs...
We got there and saw a couple!
Not what she had seen the day before, but at least there were some...

Not sure what kind of frog this is, so if you know...
Let us know, PLEASE!!!!!!!!!


This is the little frog in a water bottle...
Again in the water bottle.
Again in the water bottle.
The little frog beside my moms thumb!
We put the frogs in a jar for Broxton to look at!!!!
That was enough Critter for me!!!!